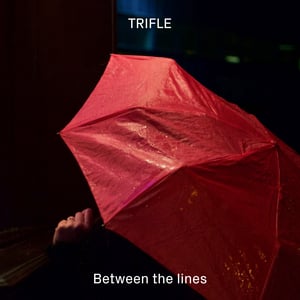 €

8.00
Trifle "Between The Lines" - Limited 7" ENG
The Trifle project started in November 2016, when Marco entered the Raport Studio in Vicenza (Italy) to work on a bunch of riffs that he collected through his the years spent with his previous band, Argetti.
During the recording session Matteo, owners of the Raport Studio, decided to become part of Trifle by recording the bass lines of "Between The Lines", and producing the Ep. The band, started as studio-project, earns Andrea on drums and Richi as singer.
Trifle are glad to present you their first work, the "Between The Lines" Ep: a project that blend to perfection classic hardcore with melodic punk rock lines.
250 limited press
150 copies available in black vinyl – 100 copies available in blood-red

-------------------------------------------------------------------------------------------------------------------------------------
Trifle "Between The Lines" - Limited 7" ITA
Nel Novembre 2016 Marco entra in studio per lavorare su una serie di tracce e riffs messi da parte durante gli anni passati negli Argetti. E' parlando con Matteo (Dufresne) che si comincia a pensare a qualcosa di concreto e di lavorare sul quel vecchio materiale. Matteo mette a disposizione le sale di registrazione del suo Raptor Studio e la sua esperienza come bassista e produttore per lavorare a questo nuovo progetto. Così, registrando le linee di basso e chitarra, nascono i Trifle. Il gruppo, inizialmente ideato come uno studio-project, prende Andrea (Regarde) alla batteria e Richi (Mangroovia) alla voce. Una band di amici di vecchia data e facce non nuove nella scena punk-hardcore.
I Trifle, che tradotto significa una cosa di poco conto, una sciocchezza, sono nati non prendendosi troppo sul serio, rispolverando vecchie idee e mescolandole con quelle acquisite nel corso degli anni.
Durante un viaggio a New York nel Gennaio 2017, Marco e Luca (Countdown records) decidono di stampare le 4 tracce che compongono l'Ep "Between The Lines", in uscita ad Ottobre 2017.
250 tiratura limitata
150 copie black vinyl – 100 copie blood-red